For the current home page, we have zero static content. Our new home page SEO strategy will include focusing on a few similar keywords that will 'anchor' the home page and bring in more traffic.
The top terms included in the SEO Strategy are:

They have a good search volume but are highly difficult to rank (KD 94 and 98).
However, we want to add these into the mix because it will establish the website's credibility in the keyword 'areas'. 
We have some opportunities here because we found some keywords that are well-searched, specific but not currently on the 'radar'.

Have you considered doing a  'TOP TEN LIST' of podcasts?
Top 10 (or even 5) lists are always good. People love them, you can provide valid content in your niche in a easy-to-digest format and again, people LOVE them.
Also, consider the title to be in the form of a QUESTION.
'What are the top 5 financial independence podcasts?' Google will often place answers to questions above the fold, giving them more weight.
I would strongly consider a post regarding financial independence podcasts and 'what the listener should be listening for to make sure that the podcast is actually good quality, relevant content'. 
This allows you to become the expert AND supply content to those who are searching for that term. Their INTENT is almost certainly to listen to information about how they can become financially independent, which is one of your target markets.
Additional Home Page SEO Strategy Ideas
Like terms are also important. Here we see that this keyword is very similar to the one that has a huge volume but with a KD of 71, will be easier to attain.

Obviously, we don't want to make the content sound funky or weird, but I think you get the idea.
Now, along with the one above, there are often similar terms, typos, etc. that receive some amount of traffic and if you can find a way to work it in, may benefit you. NOTE: These 'similar' keywords can also carry some weight as it applies to the entire page content. Meaning, those terms used correctly can help establish the intent of the content, which as Google changes it's algorithms, will become more and more important.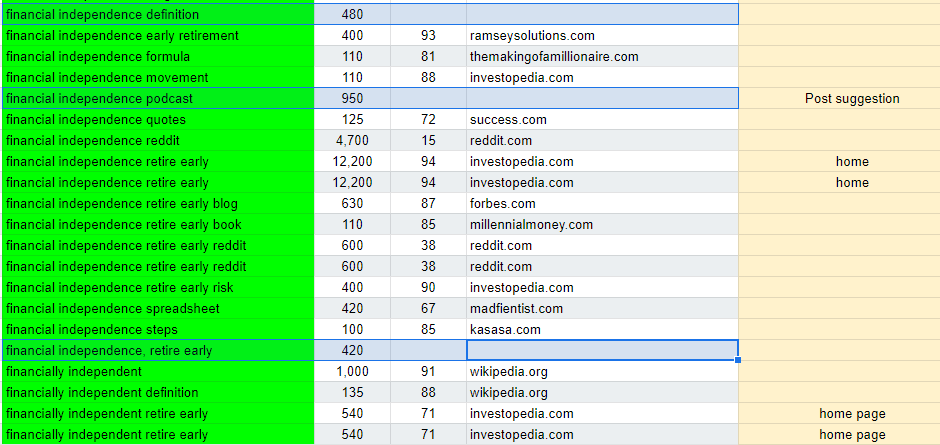 Decide upon the keywords for the home page and create content (at least 300 words, 500 would be best) for the SEO Home Page Strategy.